In the ever-evolving digital world, web hosting has become a cornerstone of any online business. From small startups to established corporations, the right web hosting provider can be a game-changer. Brixly is a company born from necessity and has grown into an award-winning unlimited web hosting provider.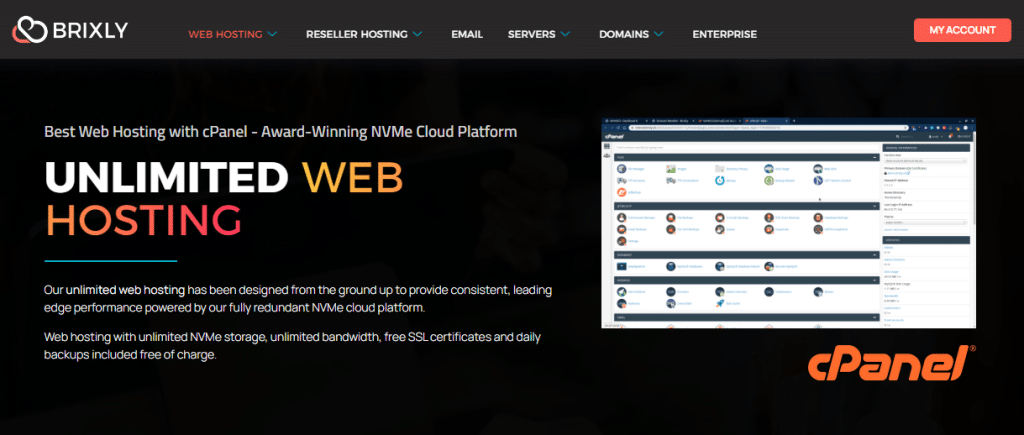 The Power of Unlimited
When it comes to web hosting, the term 'unlimited' can often appear like a mirage in the digital desert – tantalizing, intriguing, and a little mysterious. It's a term that promises endless possibilities, but what does it really mean? At Brixly, unlimited hosting is not just a marketing buzzword, it's a reality that opens up a world of opportunities for various entities, from burgeoning businesses to seasoned web agencies and ambitious startups.
Unlimited web hosting at Brixly fundamentally means you can grow and scale your online presence without the worry of hitting a ceiling. It signifies that restrictive limits on key hosting elements such as storage or bandwidth won't tie you down.
Imagine not having to worry about the storage space when uploading new content or adding high-resolution images. Consider the peace of mind knowing that as your website traffic increases, you won't be penalized or throttled for drawing more visitors. This freedom and flexibility are at the heart of Brixly's unlimited web hosting.
Whether you're a blogger adding a new post every day, an e-commerce store owner uploading new product images, or a business adding more services to your portfolio, Brixly's unlimited hosting plans provide the canvas for your creativity and ambition. It allows you to focus on what matters most – growing your online presence – while they take care of the technical details.
However, it's also crucial to remember that 'unlimited' comes with certain responsibilities – a commitment to fair usage to ensure that all users enjoy a smooth, efficient hosting experience. In essence, Brixly's unlimited web hosting offers the best of both worlds – the freedom to grow and the reassurance of a well-managed, shared hosting environment.
Understanding Fair Usage
While the term 'unlimited' implies infinite possibilities, it doesn't equate to a lawless landscape. Like a shared living space, Brixly's unlimited hosting plans have certain guidelines to ensure that every inhabitant gets a fair share of the resources and maintains a harmonious environment. These guidelines are encapsulated in what's known as 'fair usage policies'.
Fair usage policies play an essential role in preventing misuse of resources and ensuring that all clients enjoy a smooth, hassle-free hosting experience. They act as the rulebook that maintains order in the shared hosting ecosystem.
At Brixly, these policies cover a range of aspects. For instance, they prohibit the use of their servers as a file share platform, ensuring that the resources are not overtaxed by activities that fall outside the scope of typical website hosting. Similarly, using the server as a backup medium is also out of bounds. This rule helps ensure that server space is primarily used for active website content and not consumed by large backup files that can be stored elsewhere.
There are also certain limits on the amount of media that can be stored. These rules are not meant to stifle creativity, but rather to prevent any one user from monopolizing server storage with excessively large media files.
All these rules serve a single purpose – to maintain a healthy, efficient, and fair hosting environment for all users. They ensure that while you enjoy the freedom that comes with unlimited web hosting, you're also contributing to a shared ecosystem where resources are used responsibly and fairly.
In this way, Brixly's fair usage policies support the 'unlimited' concept by ensuring that it benefits all users. They provide the framework that allows the unlimited hosting model to work effectively and sustainably.
The terms and conditions, including the Fair Usage policies can be found here.
The Brixly Advantage
Brixly's take on unlimited web hosting goes far beyond just offering endless storage and bandwidth. It's a holistic approach that focuses on providing a robust, reliable hosting environment capable of meeting and exceeding the demands of any website, regardless of its size or traffic volume.
The heart of their service lies in their state-of-the-art, purpose-built cloud infrastructure. Brixly's servers are powered by high-performance AMD CPUs, renowned for their excellent processing power and energy efficiency. This technological backbone ensures that your website can easily handle heavy traffic, complex processes, and high-resolution media.

But Brixly doesn't stop at powerful CPUs. Their system boasts full redundancy, which means that in the event of any hardware failure, another system immediately takes over, ensuring your website remains up and running without any noticeable disruption. This level of reliability is vital in today's fast-paced digital world, where any downtime can result in lost visitors and revenue.
Moreover, every Brixly hosting plan is backed by 100% NVMe storage. Compared to traditional SSDs, NVMe drives offer significantly faster data transfer rates, leading to improved website performance. From loading speeds to handling simultaneous requests, NVMe storage ensures your website delivers a smooth and speedy experience to all users.
Managing your website is also a breeze with Brixly, thanks to the inclusion of the popular cPanel control panel. This user-friendly platform allows you to easily manage your website, email accounts, databases, and more, all from one central location.
Breaking industry norms is second nature to Brixly. While most providers offer a single core and 1GB RAM as standard, Brixly doubles this, offering 2 cores and 2GB RAM as standard on their unlimited hosting plans. This equates to better performance, faster processing, and an overall smoother experience for your website visitors.
All these features underline Brixly's commitment to offering unmatched value and performance in their hosting solutions. They firmly believe that 'unlimited' should not only refer to storage and bandwidth but also to the hosting environment's quality, reliability, and robustness.
Award-Winning Support
Among the many factors contributing to Brixly's success story, their customer service stands out as a shining beacon. Brixly understands that in the fast-paced world of web hosting, technical issues can occur unexpectedly and have the potential to disrupt your website's operation significantly. This is why they've developed a uniquely efficient support system to ensure that help is always at hand, and your website stays up and running.
Unlike standard customer support setups, Brixly's support system has been built from the ground up, designed to offer users an intuitive, self-guided experience. This includes an extensive knowledge base filled with informative articles, tutorials, and troubleshooting guides, providing you with the tools to tackle common issues independently. But the innovation doesn't stop there.
Brixly has also developed an automated 'triage' system that revolutionizes the way support tickets are handled. This triage system automates the diagnosis of common issues, providing support agents with critical information as soon as a ticket is opened. This not only speeds up the resolution process but also ensures that the support team has a clear understanding of the issue from the get-go. The result? Faster, more accurate support compared to the traditional 'ticket' approach.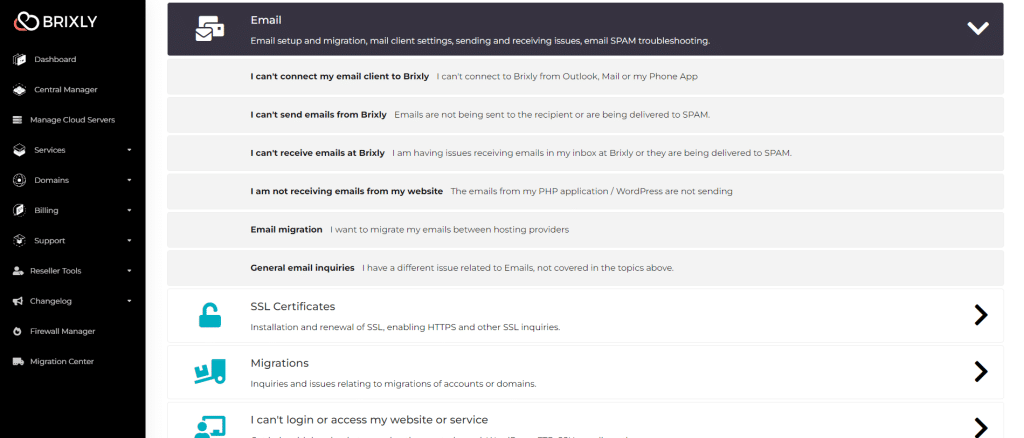 Despite handling over 250 tickets daily, Brixly's average response time is an impressive 15 minutes. This swift turnaround is a testament to their support system's efficiency and commitment to customer satisfaction.
But what truly sets Brixly apart is the makeup of their support team. Rather than relying solely on front-line support staff, Brixly's team is composed of experienced engineers, DevOps professionals, and specialists. These experts bring a depth of knowledge and experience to the table, ensuring that even the most complex issues can be resolved quickly and effectively.
Whether you're new to web hosting or a seasoned pro, Brixly's support team is there to ensure your unlimited web hosting experience is as seamless as possible. They're not just there to fix problems – they're dedicated to empowering you to make the most of your hosting plan.
The Proof is in the Pudding
In any business, especially in the service industry, customer feedback and industry recognition are the most authentic indicators of a company's worth. This is where Brixly truly shines, amassing both glowing customer testimonials and prestigious industry accolades in abundance.
Brixly has garnered hundreds of positive reviews on TrustPilot, one of the most reputable online review platforms. These reviews offer a firsthand account of Brixly's reliable service and top-tier support, reflecting the company's commitment to customer satisfaction. Brixly's TrustPilot profile serves as a testament to their dedication to providing not just unlimited web hosting, but also an unparalleled customer experience.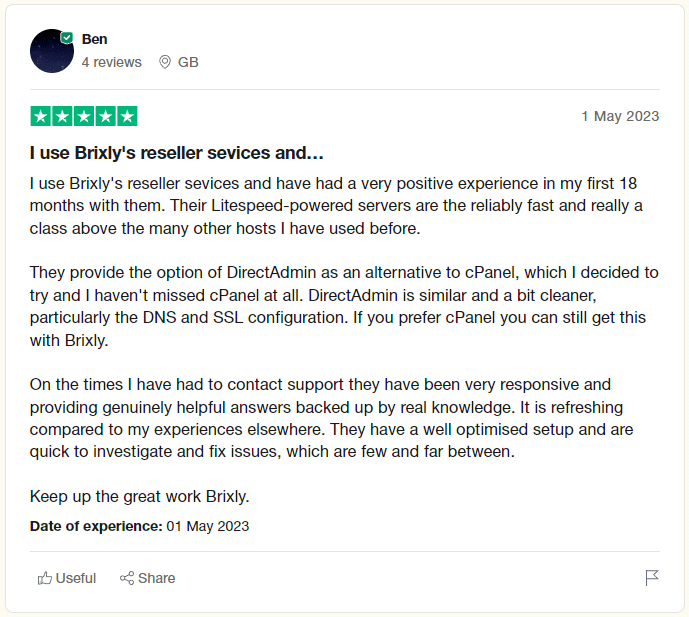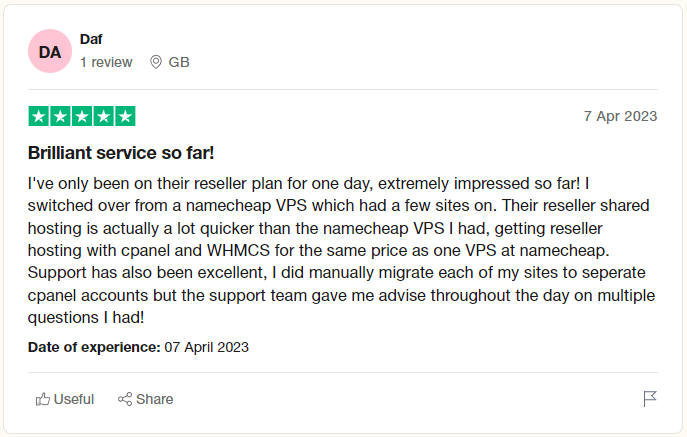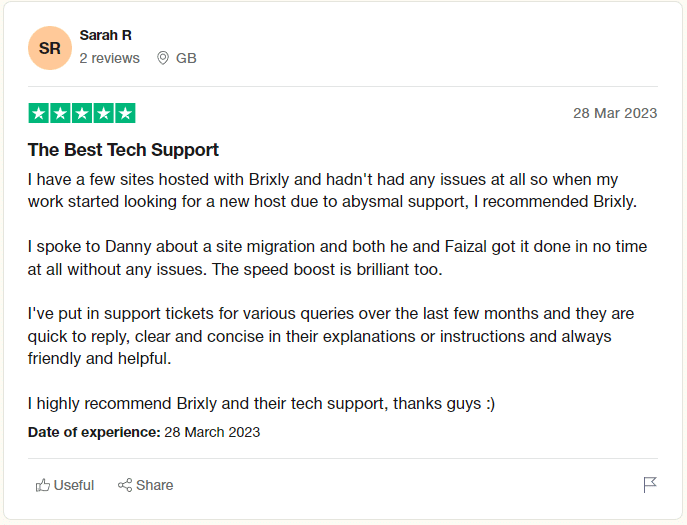 You are able to see more reviews like this on our TrustPilot page here.
In addition to customer feedback, industry professionals have recognised Brixly's excellence. They have received numerous awards for their web hosting platform, further solidifying their position as a leader in the hosting industry. These awards reflect Brixly's relentless pursuit of innovation and quality in their services, from their robust infrastructure to their efficient customer support.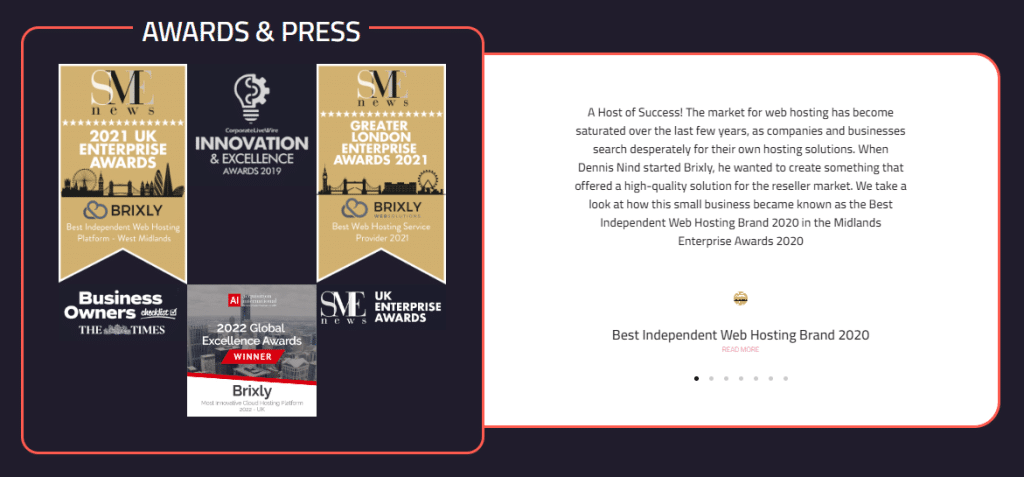 In the end, what sets Brixly apart is their unwavering commitment to their customers. Whether it's through their unlimited web hosting plans, award-winning support, or their innovative features, Brixly consistently goes above and beyond to provide an exceptional hosting experience.
Debunking Unlimited Hosting Myths
In spite of its numerous benefits, the concept of unlimited hosting can sometimes fall victim to misunderstanding or misinterpretation. One common myth that tends to circulate is the belief that 'unlimited' translates to an unrestricted free-for-all, where you could build the next Amazon or eBay on a shared platform! While this idea is appealing, it's far from reality.
Brixly's unlimited web hosting plans, while undeniably robust and scalable, are still bound by fair usage policies. These policies are designed to ensure that the shared hosting environment remains healthy, balanced, and beneficial for all users.
Unlimited web hosting plans operate under a 'shared use' model. This essentially means that while they provide ample room for growth and can comfortably accommodate an expanding website, there is a threshold beyond which a more dedicated or powerful solution may be required. If your website grows to the point where it's drawing traffic comparable to Amazon, you'd likely need to consider moving beyond a shared hosting environment and look towards dedicated servers or cloud hosting solutions.
In this sense, unlimited hosting is not an all-you-can-eat buffet, but rather a flexible plan that adjusts to your needs while ensuring fair and equitable use for everyone. It's designed to provide you with the resources you need to grow, without the constant worry of hitting storage or bandwidth caps.
By understanding this, businesses can effectively leverage the benefits of unlimited web hosting while being mindful of its shared nature. It's about responsibly enjoying the freedom that unlimited hosting offers, while also ensuring you're prepared to upscale your hosting plan in line with your site's growth.
Conclusion
Brixly's unlimited web hosting plans offer a potent mix of freedom, flexibility, and value, backed by award-winning customer support. Their purpose-built infrastructure and generous resource allocation set them apart in a crowded market.
While the term 'unlimited' does have its boundaries, these are designed to ensure fair usage for all users, while still providing plenty of room for growth. For businesses looking for a scalable, reliable, and efficient web hosting solution, Brixly's web hosting unlimited plans are worth considering.
Embrace the art of the unlimited with Brixly, and experience the difference a truly committed web hosting provider can make. After all, your website's success is their success too.
And there you have it, a deeper look into the art of unlimited web hosting. As always, feel free to reach out to Brixly's award-winning support team if you have any questions about their unlimited web hosting plans. They're here to help you make the most of your online presence.