Introduction
You're ready to take the plunge, step up your game, and become a reseller web hosting superstar. Fantastic! But wait, before diving headfirst into the world of reselling web hosting like an Olympic swimmer going for gold, you must choose the perfect reseller hosting plan to set you up for success. After all, not all reseller web hosting plans are created equal, and you don't want to end up with one that's more disappointing than realizing your favourite show just got cancelled (we're still not over that, by the way).
But fear not, dear reader, for we are here to guide you on this magnificent journey through the vast cosmos of the web hosting business. Think of us as your friendly tour guide, equipped with a wealth of knowledge, a megaphone, and a snazzy hat, leading you through the labyrinth of options and helping you avoid the pitfalls that could leave you stranded in reseller hosting purgatory.
To ensure you pick the best reseller web hosting plan for your blossoming business and become the envy of resellers everywhere, we've compiled a list of the ten essential features you need to look for. Buckle up, grab your favourite snack, and let's dive into this adventure like we're Indiana Jones searching for the Holy Grail of web hosting plans. Let's get started!
Cloud Hosting on Industry-Leading Hardware
The foundation of any outstanding reseller hosting package lies in the hardware it's built on. You want a web hosting company that fully commits to top-notch equipment and infrastructure. Our company, for instance, has invested over £250,000 in our private cloud infrastructure to ensure our reseller hosting plans are built on a rock-solid foundation.
When selecting a reseller web hosting service, look for those that use state-of-the-art equipment like AMD EPYC CPUs, NVMe storage, and powerful DDoS protection. This combination is like a superhero team of web hosting, offering lightning-fast speeds and unparalleled reliability. Let's explore the benefits of these cutting-edge technologies:
NVMe Storage: NVMe storage is a more advanced technology than traditional SSDs, allowing for faster data transfer and lower latency. This means your clients' websites will load rapidly and outpace the competition.
Powerful CPUs: A robust CPU, such as the AMD EPYC processor, is the heart of any high-performance hosting platform. These CPUs provide more cores, higher clock speeds, and better energy efficiency, resulting in faster processing times for your clients' websites and applications. This ensures smooth performance, even during peak traffic times or when running resource-intensive tasks.
With a 99.9% uptime SLA, you can have peace of mind knowing your clients' websites will be up and running consistently, helping your reseller business thrive regardless of the challenges the internet presents.
Scalable Plans for Your Growing Empire
As a reseller hosting entrepreneur, you want a plan that can grow with your business. Seek a web hosting provider offering a variety of web hosting packages with different resource levels, like cPanel accounts and storage, to cater to your expanding needs.
Start with a modest plan, like our Entry reseller hosting account with 20 cPanel accounts and 50GB storage, and upgrade as your client base grows. Our plans don't stop at Entry level; we offer Reseller Pro 50, Pro 100, Pro 150, and Pro 250, each with additional resources, allowing you to support more clients and boost revenue.
For ambitions reaching beyond 250 sites, we can provide additional cPanel Reseller plans to keep your business soaring. With such scalability, there's no limit to the reseller hosting success you can achieve.
A User-Friendly Control Panel
Let's face it; nobody wants to wrestle with a clunky, outdated control panel that makes you want to pull your hair out like you're stuck in a never-ending loop of frustrating tech support calls. A user-friendly control panel like cPanel is essential for easily managing your reseller hosting accounts and providing a smooth experience for your clients.
Going with the wrong control panel may lead to problematic situations further down the line. For example, if you need to change hosts or migrate your clients to a new provider, you may find yourself locked to the same panel, causing unnecessary headaches and roadblocks to your reseller hosting success. Some panels might provide a great level of simplicity, but lack in other areas like advanced features, customization, or compatibility with various applications.
cPanel, on the other hand, is the gold standard of control panels. It's like the Rolls-Royce of hosting management tools, providing a luxurious and intuitive experience that makes managing your reseller hosting accounts a breeze. With cPanel, you can quickly create and manage your clients' accounts, domains, and email, all without needing a PhD in computer science or a magic wand to wave away your troubles.
Boasting an extensive range of features and capabilities, cPanel allows you to manage every aspect of your hosting business effortlessly, from monitoring server resources to configuring security settings. Plus, its compatibility with a wide range of applications and software ensures that you and your clients can utilize the tools you need without any fuss.
White Label Branding
You've worked hard to build your brand, like an artist painstakingly crafting their masterpiece, and you want your reseller hosting business to reflect that. White-label branding allows you to customize the look and feel of your hosting services so your clients see your logo and branding instead of the hosting provider's. It's like donning an invisibility cloak that transforms you into a hosting wizard, dazzling your clients with your magical prowess. Presto change-o!
Our platform is specifically tailored for resellers, placing white-labeling at the heart of our offerings. We provide custom nameservers at no additional cost, unlike some providers, like 20i, who charge extra for this feature!
All of the cPanel interfaces can be branded, allowing you to infuse your company's identity throughout the entire user experience. It's like having your very own hosting bat signal, shining proudly across the digital skies. WHM (Web Host Manager) gives you centralized access to your clients' accounts, streamlining your management tasks and making it easier for you to keep your reseller hosting business running smoothly.
But wait, there's more! We even have our own 'Central Manager', a veritable command center that allows you to manage all of your cPanel accounts directly from within our client area, no matter how many reseller services you have. It's like having a digital Swiss Army knife of reseller hosting tools, right at your fingertips.
Outstanding Customer Support
In the realm of reseller hosting, customer support reigns supreme. You want a provider that offers exceptional support, ensuring you're never left in the lurch if things go awry. After all, if something goes wrong, you don't want to be left dangling like a cat in a tree or a kite without a breeze. Our company, for example, boasts a 5 stars/Excellent rating on TrustPilot, which means we're incredibly proficient at helping our customers. However, please don't ask us to rescue your cat from a tree, as that's not our area of expertise.
We take pride in our industry-leading response times on our support ticket system, averaging around 15 minutes. Our dedicated team consists primarily of senior engineers who possess the knowledge and experience to tackle any issue that might arise. It's important to note that our support is provided exclusively through our ticket system, other than with our Premium Reseller plans, which include telephone and live chat support.
But don't worry, this focus on our support ticket system is by no means a negative! We've built our own intuitive support system to provide self-guidance when reaching out, ensuring that your experience is both efficient and effective. Our streamlined approach to customer support allows us to offer personalized, expert assistance tailored to your needs, making sure you're never left hanging when it comes to managing your reseller hosting business.
Comprehensive Website Security
In today's digital landscape, having robust security features is as important as having a cape and a cool catchphrase for a superhero. As a reseller hosting entrepreneur, you want to assure your clients that their websites and data are protected from the nefarious villains lurking in the shadows of the internet. Offering comprehensive web security features can give your clients peace of mind and help you stand out as the superhero of safety in the competitive world of reseller hosting.
Your reseller hosting package should come with a utility belt of powerful security tools, such as SSL certificates to encrypt data and keep sensitive information safe, malware scanning to fight off pesky cyber-criminals, and automated backups to safeguard your clients' precious digital treasures. With these features at your disposal, you'll be able to swoop in and save the day whenever online threats come knocking, ensuring that your clients can sleep soundly knowing their websites are under the watchful eye of a true hosting hero!
Exclusive Upsell Opportunities
As a reseller hosting entrepreneur, your goal is not only to provide top-notch hosting services to your clients but also to grow your business and maximize profits. That's where exclusive upsell opportunities come in, allowing you to expand your offerings and boost your bottom line like a seasoned business tycoon!
We provide our resellers with exclusive discounts on our entire range of products, including domains and cloud servers. We even allow clients to sell reseller hosting at a discounted rate, creating a win-win situation where you can offer attractive prices to your customers while still enjoying healthy margins.
In summary, by choosing a reseller hosting package with exclusive upsell opportunities, you can unlock new avenues for business growth and create a thriving, successful hosting empire. So, gear up and seize these opportunities to take your reseller hosting business to new heights!
Automated Backups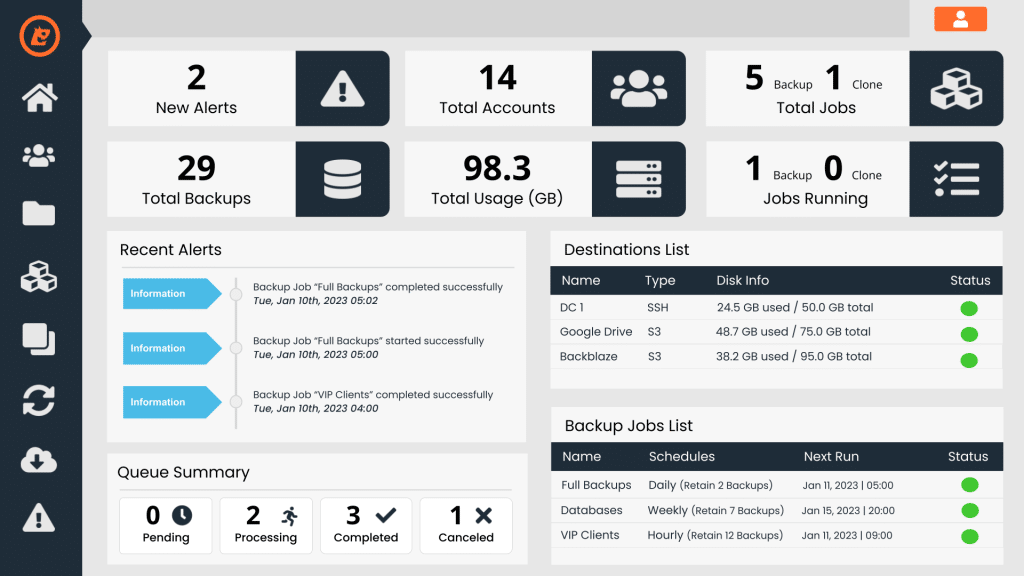 You know what's worse than accidentally deleting an important file? Not having a backup to restore it. Ensure your reseller hosting includes automated backups, so you and your clients can sleep soundly knowing that all is not lost if disaster strikes. Think of automated backups as your friendly neighbourhood superhero, swooping in to save the day when things go awry.
Independent vs Group Hosting Providers
When it comes to choosing the right hosting reseller provider, opting for an independent brand like ours can offer a more personalized and approachable experience compared to larger group brands like HEG.
Outstanding Customer Support: Our smaller team is made up of experienced and knowledgeable individuals, each with extensive experience in the hosting industry. We take a senior-first approach, ensuring that our clients receive top-notch support from seasoned professionals, rather than relying on a large number of front-line staff.

Innovative Support Systems: We have developed our own support systems that promote self-guidance and automated triage, helping to pre-diagnose many common issues before tickets even come through to us. This innovative approach sets us apart from larger providers, as we're able to address customer concerns more efficiently.

Specialized Tools for Resellers: We've built a wealth of tools and processes specifically designed to make managing multiple sites easier for resellers. This includes specialized WordPress management tools, centralized management, and more, giving you an edge in providing top-tier services to your clients.

Focused on the Reseller Market: As an independent hosting provider, we're able to hone in on the specific needs of the reseller market, ensuring that our services are tailored to your unique requirements.
By choosing our independent hosting company over a larger group brand, you'll enjoy the benefits of personalized support, innovative systems, an approachable and flexible provider, specialized tools for resellers, and a focused dedication to the reseller market. It's the difference between a warm, inviting indie experience and the bustling, impersonal atmosphere of a global chain – and we know which one we'd prefer!
A Stellar Reputation

Last but certainly not least, choose a hosting reseller provider with a stellar reputation when building your own web hosting service or starting your own web hosting company. Look for testimonials and reviews on platforms like TrustPilot to get a sense of the provider's customer satisfaction and reliability. A provider with rave reviews and a strong track record is more likely to deliver on their promises and keep your hosting reseller business humming along like a well-tuned orchestra.
Moreover, a top-notch hosting reseller provider will have a history of receiving numerous awards year after year for outstanding support and dedication to clients. This recognition not only demonstrates their commitment to excellence but also serves as an assurance that they will continue to uphold high standards in the future. When selecting a hosting reseller provider, be sure to consider their accolades as a testament to their quality and ability to meet your reseller hosting needs.
Conclusion
There you have the 10 essential features to look for in a reseller hosting package for hosting resellers, web designers, agencies and web hosts alike. Keep these in mind as you embark on your journey into the wonderful world of reseller hosting and reseller accounts, and you'll be well on your way to building a successful business that even your favourite superhero would be proud of. Now go forth, conquer the reseller hosting realm, and remember: with great hosting power comes great responsibility!