Curious about the great 'Control Panel' debate?
cPanel is by far the most popular control panel to date, with powerful, intuitive control for both end-users and resellers.
However, cPanel have caused quite the stir when it comes to pricing, with dramatic pricing increases year-on-year.
At the point cPanel started the process of increasing their pricing, we introduced our clients an alternative – DirectAdmin.
Read more below to see how the two solutions compare!
It can be a little overwhelming when trying to decide between either cPanel or DirectAdmin as your control panel interface when purchasing one of our subscriptions. This article intends to help you with that decision making process by comparing and contrasting the two control panels, showing off their respective features, interfaces, advantages, and drawbacks and by listing the fundamental principles as to why our clients go one way or the other.
The Control Panels Features, Tools and Categories
Within this section, we will evaluate the various tools which cPanel/WHM and DirectAdmin allow web hosts to use on both a Reseller/Administrator level and a User level. We will discuss the main tools which a web host or a reseller would use under both of these control panels, and they will be listed under the following categories:
Email
Files, Directories and folder Management
Database Management
Domain Management and configuration
Security
Metrics
Software implementation
Advanced features
Web Application Interfaces
Theme used for comparisons
The 'Glass cPanel' Style and the 'Hybrid DirectAdmin' Style will be used as they look very similar to be able to compare the toolsets within the interfaces effectively.
Email Management and Control
Email Configuration is an extremely broad area within web hosting and is arguably one of the most complex areas of web hosting.
There are various aspects within Email that all need to be in synchronization to each other and intertwined to be able to deliver a successful Email platform for the end-user.
Both cPanel and DirectAdmin have developed an incredibly powerful tool list and feature-set to be able to provide clients with a very well structured, organized and somewhat user-friendly method to configure their Email environment. There are many areas that need to be configured correctly within Emails such as Accounts, Routing, Security, Reporting, usage and filtering – both control panels have exceptional methods for setup.
cPanel houses an extremely wide variety of Email-based tools within its interface. Admittedly, quite a few of them would not need to be used very frequently, but they also provide web hosts and resellers additional advanced settings for email configuration and diagnosis tools in case issues arise.
As mentioned before, the number of tools listed here may be quite overwhelming, but the main ones which would need to be used have extremely good functionality and are relatively simple once you have spent a little bit of time exploring what each one does.

Email Accounts
The Email Accounts interface (simply put) allows users to be able to list and create email accounts under their reseller. There is a quick link to view emails, manage the email accounts, and adjust configuration settings for a particular email such as email, contacts, calendars, webmail clients and more.
Email Security
Here at Brixly, we offer MagicSpam protection with all of our web hosting and reseller plans for free. This has quite a complex configuration process, and therefore there is a specific default setup that will be made for any new account which is created. However, to briefly describe what MagicSpam does – we have a dashboard that lists statistics on all of the emails listed for an email domain within a particular month. There is also a Spam Settings, Security, and exemptions tab to be able to manually configure security measures for emails, however, this is usually configured here at Brixly by us. The logs tab can be used to manually check for any emails which have been sent or received allowing us to review if anything has been marked up as spam.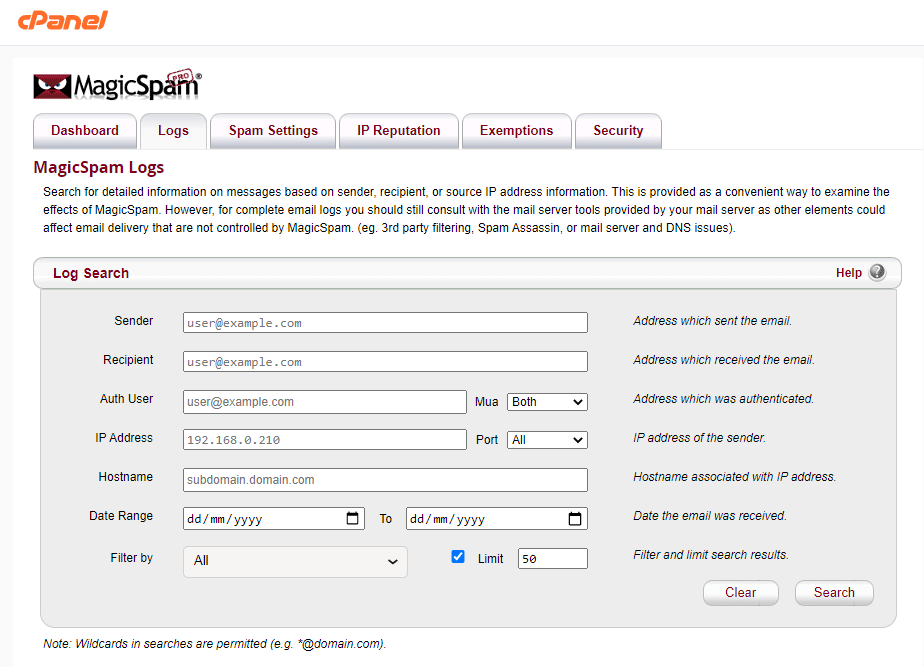 Reporting Tools
One of the main tools which Resellers and web hosts may use frequently is the mail reporting tools and features. Firstly within cPanel, Email Deliverability can be configured to process how emails can be delivered and received under specific accounts. Alongside this, the Track Delivery tool can be accessed to monitor how these emails are delivered. We can also use the Email Disk usage to see exactly how much storage each user is taking up under a cPanel account.
For Email Delivery reporting, this is where WHM comes into play quite nicely.
Within WHM, there is a tool called Email Delivery reports specifically for the use of Admins and resellers. These reports can be used to track delivery, failures, inbound, outbound and pretty much everything in between. There are also filtering options to specifically narrow down the reports to showcase specific senders or recipients to a particular date or time.
These Email Delivery reports are a huge advantage to cPanel, and Unfortunately, DirectAdmin does not hold such a tool. Although technically, this can be done within the command line on an admin level on either one of the two control panels, who doesn't want a fancy UI to clearly lay out specifics inside of an easy to read format?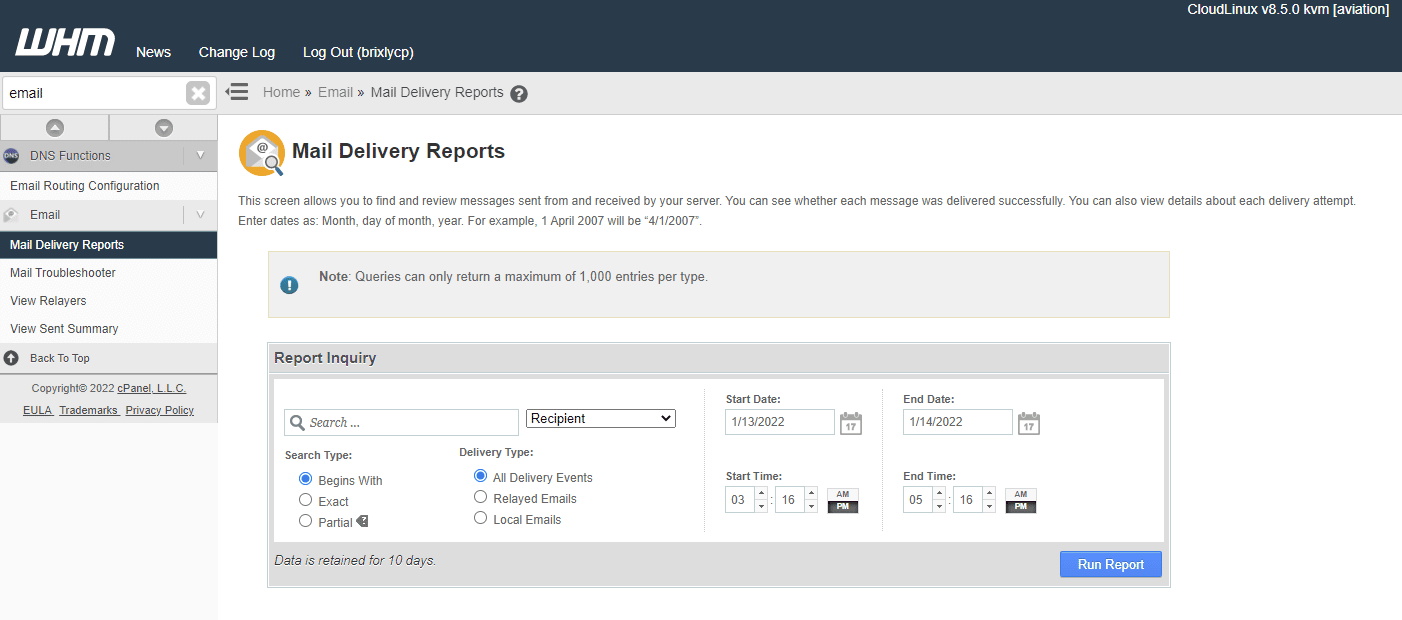 There are also some other great tools within WHM such as a Mail Troubleshooter, and a 'Sent Summary Report' To provide a more in-depth analysis on any issues which may arise.
Honestly, no other control panel quite does it like cPanel. Its Email Tools are extremely advanced, fit for purpose, and extremely versatile. There is very little you as a reseller or a web host won't be able to do, but let's see how DirectAdmin can stack up against the long developed giant!
Just like cPanel's Email section, DirectAdmin also houses a selection of Email-based tools for users which is called the 'E-mail Manager'. It seems rather condensed and there are fewer tools to use here compared to cPanel, however you get the essentials, and in all honesty, everything that this selection has to offer is most probably everything that a user would need.
Admittedly you don't get fancy graphical interfaces such as email delivery tools, however, this can all be interpreted in the logs, and hey… chances are, as a web host or reseller, you will probably be coming to Brixly's incredible support team to help you diagnose those issues anyhow. Just like in the previous section, we will explore DirectAdmins attempt at User Email management and explore their most popular tools.
Email Accounts
DirectAdmin's 'E-mail Accounts' tool is extremely similar to cPanels. Users are able to create accounts with a Username, Password and Email Quota setter, alongside the ability to view all of the current emails which are already created. What is nice about the DirectAdmin method is that they have one tool which allows the user to list emails, create new ones, Enable DKIM configurations, view individual email accounts current usage, and also has an SMTP log rather than splitting it out through multiple interfaces.
Email Security
With Brixly, no matter what route you decide to go, cPanel or DirectAdmin, we have you covered with SpamAssassin. DirectAdmin actually uses its own SpamAssassin interface. Again, Spam Assassin uses a score count which every time an email is sent through, it uses a specific counter which directly refers to rules which SpamAssassin creates – These rules determine a threshold which if met, then the email will be marked as Spam. You get all of the same features within DA as you do with cPanel, such as blocklists, score setters, Spam redirecting and configuration settings – although we set these up and it is recommended to not mess with any of these.
Similar to cPanel, we also offer MagicSPAM which again can be controlled through the DirectAdmin interface entirely. 
In addition to SpamAssassin, there are also Spam filters that can be used, but again, it is recommended to enable SpamAssassin as this is the optimal software tool to be able to minimize the amount of Spam that may get through to the user's inbox (or sent for that matter).
Email Usage
There is even an E-mail Usage tool embedded into the interface providing a similar method of dealing with Deliverability. Although this is nothing like cPanels Email Delivery reports, it does house some information such as a sender, recipient, the email, protocols used, and some extra information to allow troubleshooting to take place – Just not as far in depth as cPanel's reports.
File management within both cPanel and DirectAdmin have extremely versatile and intuitive file management tools to be able to allow users to manage their files including their websites scripts and directories via a 'File Manager' interface.
The File management tools for both control panel's allow users to create, upload, download, extract, and organize their file structure – also including permission setting etc for a streamlined and seamless integrated experience.
In addition, both tools provide you with access to FTP and also SSH.
As you can see cPanel houses many different useful file utilities within its file management tool section. Users can access a file manager, view images, configure a backup wizard, establish privacy settings, generate backups via either JetBackup or cPanel's own backup tool, and also view current disk usage to see how much storage specific files are taking up for their account.
File Manager
cPanel's File Manager is the centralized utility to view and manage a user's public_html directory. This holds the file structure which will be directly replicated to the navigation and website structure. As mentioned previously, users can add files and folders, upload local ones from their machines, download a specific file or template, delete, restore and edit them, and review the current set permissions. It's a pretty-looking interface reminiscent of Linux's own file explorer.
Disk Usage
The Disk usage utility provides a graphical representation of a users storage allowance, limits and current usage for their files within their cPanel account (which is synced directly with File Manager). It's a very simple way for users to be able to review what directories are taking up the most space.
Backup and Backup Wizard
cPanels Integrated Backup interface and backup wizard allow the user to be able to do one of three things:
Backup or Restore (Home Directory, SQL database, Email Forwarders or Email Filters)
Create a Full or Partial Backup
Download a created backup (full account or Home directory)

This utility is great, especially if the user is going to be making large changes to their site which could potentially compromise the work which they have currently done, or if a large project is to be made which could potentially take their current site down – its essentially a great little safety net to be able to either make a copy of the whole account or a part of the site in case anything goes horribly wrong during future development.
In addition, however, the hosting here at Brixly does include JetBackup, which takes daily backups automatically, and stores these backups off-site. 
On top of its very similar looking take to cPanel's File Manager, DirectAdmin also comes with a couple of other tools, of which cPanel does not actually provide – which is really nice to see. There are fewer tools compared to cPanel, and there seems to be (no visible) backup utility shown on this interface, however, the search bar, in this case, works wonders.
File Manager
There is really not much difference between cPanels and the DirectAdmin File Manager tool. As you see from the image below, users are able to view the contents of their current directories and are provided with different configuration tools such as copy/move, organisation capabilities, permission setting, compression, upload, download and modification tools.
DirectAdmin would not be DirectAdmin without some sort of unique twist, and they have not stopped in the file manager. Within this interface, users are able to view their files and directories in 'grid view' for a spacious and less cluttered navigation aesthetic… and we love it.
Backups
There is no 'presented' tool for the user within the main menu, and so they will have to use the search bar. Although this is not a major issue, and in all fairness, it does keep the UI clean and presents only the most essential tools to the user, It would be nice to see this tool presented on the main UI – because at first glance you would think that this is a missing tool.
Though again, we provide JetBackup for free as a part of every service regardless of the control panel.
Domains and DNS Management
Both Control Panels have a wide variety of tools relating to domain setup and configuration. Users can manage and create domains, subdomains, Addon domains, can configure zone records, create redirects and aliases, and we also provide direct affiliation to the WordPress toolkit.
The WordPress Toolkit in cPanel is significantly better than the one provided in DirectAdmin, as this is a product originally ported over from Plesk by the guys at cPanel (which was always Plesk's main selling feature!). However, both offer plenty of control and management for WordPress sites.
cPanel does have a good set of tools featuring domain management. Within this section, we will explore the main tools which cPanel provides the user in regards to domain setup and configuration. It seems that within the Domain tools section, cPanel has kept things very uniform, simplistic and not overwhelming – and surprisingly, it's a lot simpler to manage domains here than it is with DirectAdmin.
One thing to notice is that cPanel does offer a Website Preview tool included with its software within the domains section (a plugin designed and developed by the team here at Brixly!). These are great little tools offering an advantage over DirectAdmin.
One of the main advantageous prospects for cPanel is the introduction to the WordPress Toolkit. It is an incredible tool allowing users to be able to manage and optimize their WordPress installations.
Domain Management
The main 'Domains' tool within cPanel provides the user with a centralized management tool to list all of their current domains, under their account. From here, there is a method to create a new domain, and to view specific information about said domain such as the root document location, and if there are any redirects assigned to it.
Clicking on the 'Manage' button pops up an advanced configuration interface where users are able to update config settings, and houses links to additional resources such as email creations, zone modifications, and redirect modifications. There is also a quick link to be able to allows you to create the site with a site publisher. Really though these are just quick link hotkeys for some of the other tools related to this interface which cPanel has.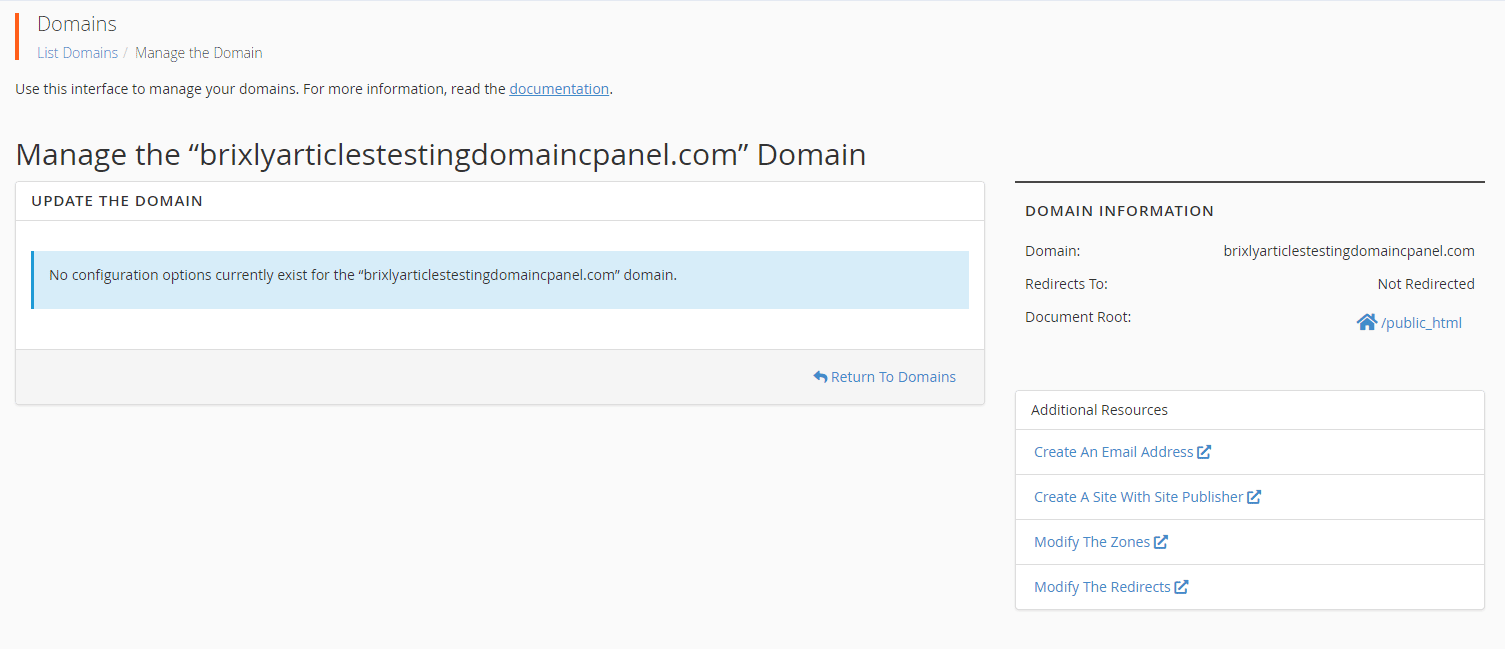 Similarly, the 'Sub Domain', 'Addon Domain' and 'Aliases' tools allow the user to create any sub or child domains for its reference. Users are able to choose a preferred domain name, link the parent from a drop-down list selection tool and also choose the document root location. Equally, you can modify already existing sub-domains or addons or create aliases to show more content for a particular domain.
Redirects
Redirects can be set up with ease, allowing users to choose either a permanent or a temporary redirect for specific domains also including management for current redirects.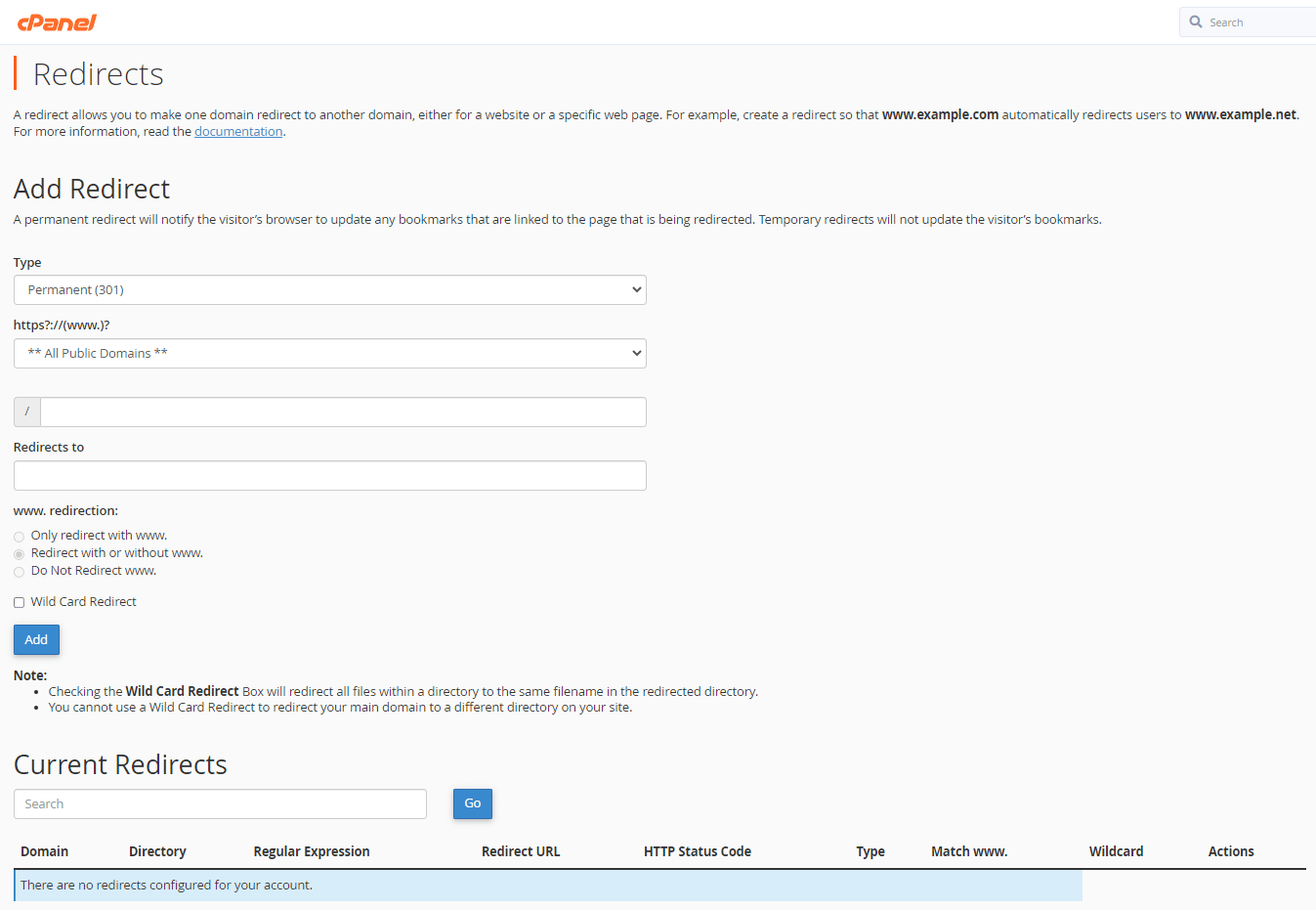 Zone Editor
cPanels Zone editor is probably one of the most useful tools within the control panel in terms of making one of the most complex topics extremely broken down and understandable and in addition, highly user-configurable. With DNS, there is so much to understand, for example, A records, CNAME records, MX, NS and so much more. Manually trying to configure, display, and even understand each one, and how they all relate and correspond with each other can be a real head scrambler.
However, cPanel has come to the rescue for both users and Resellers alike. Their Zone editor interface is clean, simple, and highly user friendly. It is somewhat almost identical to DirectAdmin which is nice to see, as there is no real winner here in this case between the two control panels.

When creating your account and setting up your domain here at Brixly (or migrating over to us), all of your Zones will be automatically configured for the most part, and the way that cPanel lists this, allows the user to easily see how each record is linked to one another. In addition to this, if you ever need to create new records, cPanel offers a nice little 'add record' option to allow a seamless method to create additional DNS zones should you require to do so. And guess what! To help with this, we have some great articles in our client knowledge base to help you set up your DNS Zone template.
https://support.brixly.uk/knowledgebase/category/domain-names-47000522874
The WordPress Toolkit is a great tool which provides the user with a single management interface that enables you to easily install, configure and manage WordPress websites including:
Admin and database password Management

Search engine indexing management

Single sign-on functionality 

Automatic Security hardening

Plugin and theme set management

Staging and cloning functionality 

Mass automatic and smart updates
Site Management
Users can start off by either scanning or installing a WordPress website to start their configuration. From here users are able to review security, manage updates, and also access quick feature subsets such as file manager, cloning and backups/restorations.
Smart Updates
By far one of the most outstanding features of its toolset, Smart Updates take the painstaking process of updating your WordPress installation to a new level of simplicity. 
Smart Updates will create a complete clone of your WordPress website and will perform the updates to the cloned installation. From there, you will be given a side-by-side comparison of the two sites, to ensure everything still functions following the updates. If all is well, you can simply save the changes, and the WordPress Toolkit will clone the updated version to your live site, replacing its contents. No more broken sites from updates!
Plugins
Users are able to manage their plugins within the WordPress Toolkit – including installations, activations and updates. For installation, there are two methods, to directly install them directly within the interface itself, or if a plugin was installed from a particular website which the user wants to upload, then they can do this also. From here, the plugin can be activated and updated to the latest version for optimal usage in conjunction with their site.
Themes
Similar to plugins, the themes tab can allow users to be able to customize their WordPress installation to a preferred present theme, This boosts personalisation and customizability to tailor the theme towards the user's requirements. The same process applies to themes as it does for plugins – install or upload, and update methods.
To be perfectly honest, for the most part, DirectAdmin holds its own against cPanels excellent industry standard set of tools, and it does have many of the same methods to be able to fully manage your domains… but there that one missing feature and that is the WordPress Toolkit. To be able to counteract this problem, we have added Installatron to direct admin which allows the user to be able to manage their software installations, WordPress sites and plugins (refer to the Installatron reference in this section). However, we do offer Softaculous on both control panel platforms to be able to manage all of this, so the choice really is once again down to personal preference!
Again keeping things de-cluttered, DirectAdmin has added all of its domain related content featured within the Account Manager section, which surprisingly makes sense. Rather than having to traverse the endless sections within cPanel, right at the top of the interface, the users can do many different things including setting up their domain, managing subdomains, managing DNS, and reviewing pointers and redirections (isolating the domain related tools within this section). 
Domain Management
Although not as feature-rich as the cPanels 'Domains' tool, the DirectAdmin domain setup interface does allow users to be able to view their current domains also with contextual information regarding their bandwidth, disk usage and the associated subdomains which is a nice little touch that cPanel does not include. It also allows users to rename, modify and add new domains as expected Users can change the graphical view to be able to condense or space apart from the list also to either provide more on the screen at once or make analyzing a single domain easier.
Adding to this, rather than having quick tool links within the Domain Management interface, the DirectAdmin approach is to only allow subdomain management to be configured within its own separate interface. Some users like this approach due to keeping things clean and simple and only providing the relevant management tools inside of its own separate tool interfaces, although it does make the navigation from main to subdomain management one or two clicks longer. 

Redirects and Domain Pointers
Just like cPanel, DirectAdmin offers users a way to be able to manage domain redirects as its own tool interface once again. The principles and the approach of these tools are exactly the same – users are able to create new redirects for a chosen domain to be either temporary or permanent.